Vegetable and Flower Greenhouses – Create the ideal flower and vegetable greenhouse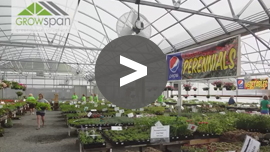 Yakima County Master Gardeners
Growers Supply designs and creates the most dependable GrowSpan greenhouses for vegetable and flower growers. A GrowSpan vegetable greenhouse can be customized to any grower's or operation's most specific needs, and Growers Supply can ensure that each greenhouse is outfitted with all the accessories and growing systems that are required.
GrowSpan's vegetable and flower greenhouses provide a versatile growing area that works great as a production or retail space, and adding a GrowSpan greenhouse can give any business an immediate boost in both functionality and aesthetic value.
The GrowSpan Flower and Vegetable Greenhouse Advantage includes:
Designs tailored to campus and curriculum
Low cost per sq. ft.
Improved ventilation
Custom designs for any operation
Durable and dependable construction

Build to any size.
Controlled environments
In-house design, financing and installation
Manufactured in America
Stamped engineered drawings
Expert Consultation and One-Stop Shopping
Creating a healthy and thriving growing operation requires a wide range of growing accessories or tools, and Growers Supply can provide any vegetable or flower grower with everything needed. Customers work with experienced greenhouse specialists to design their perfect greenhouse, and no detail is too small. Greenhouse specialists ensure that each greenhouse project is handled properly and completed to each customer's satisfaction.
Since Growers Supply is a one-stop greenhouse shop, any vegetable or flower need can be met. Greenhouse Specialists can help to create an environment that provides maximum control, and also outfit any project with heating and cooling systems, lights, blackout systems, hydroponic and aquaponic systems benches and much more. Whether it is used in a retail or production setting, a GrowSpan greenhouse can be customized and tailored to the most specific growing requirement.
With a GrowSpan greenhouse it's easy to produce the highest-quality crops year-round. Call today or Request a Quote