GrowSpan Shade Houses – A Plant shade house for any operation and any grower's need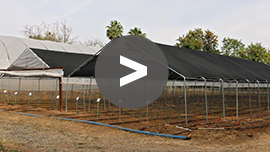 McClendon's Select Organic Farm
After months of working towards optimal harvests, growers need an ideal place to store or display their crops. Simply placing crops that they have raised from seeds in the damaged heat can drastically reduce the quality and profitability of a harvest, but a GrowSpan Shade House is the perfect solution. GrowSpan Shade Houses from Growers Supply are built to last, and their simple, but attractive, design makes them a great addition to any operation. Growers can create eye-catching displays, while also promoting the overall quality and profitability of their plants.
These structures are built to last, and they feature GrowSpan's signature quality. Each shade house is outfitted with durable shade cloth, which is manufactured with knitted polyethylene fabric. The shade cloth on these structures is designed to withstand weather, and it also won't rot, mildew or become brittle and weaken over time. Growers can choose from the densities that are best for their crops and operation, so there is a shade structure that is perfect for anybody. Knitted shade fabric can easily be removed from the structure and replaced with alternate densities or materials, saving growers time and money.
The GrowSpan product line has a number of shade houses that customers can choose from, and there is an option for any grower and operation. Growers can choose from large, commercial shade houses that feature the industry's finest shade material and were designed with the professional and retail center in mind. There are also systems made for the expanding operation. They allow growers to add shade bays to their structure, so their shade house can grow as their business dictates.
Besides being used to protect plants, Shade Houses are also frequently used in an outdoor space to provide shade to parking lots, parties, events and more.
No matter the shade need, a GrowSpan Shade House can help.
Call or Request a Quote today to find out how a GrowSpan Greenhouse Shade Structure can meet your specific application.