GrowSpan Pro Greenhouse – A cost-effective professional greenhouse option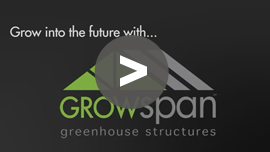 GrowSpan Greenhouse Structures
GrowSpan should be the first call for growers seeking an economical professional greenhouse. GrowSpan Pro Greenhouses provide a versatile growing space that can be utilized to produce just about any crop. These structures create an optimal growing space for professionals on any scale or the backyard grower looking to improve their setup.
Pro Greenhouses are among the easiest to manage, and with the customer's choice of Roll-Up or Drop-Down Sides, ventilation is quick, easy and effective. The greenhouse is covered by a double layer film, with the inner layer providing drip control. The film provides excellent heat retention and makes implementing controlled environment techniques simple in a greenhouse project.
These greenhouse have been utilized for success in a wide range of growing operations and applications. A professional greenhouse provides growers with a space that they are able to completely control. Each structure can be outfitted with the required growing accessories and greenhouse equipment to ensure it is an ideal structure in any region.
The GrowSpan Pro Greenhouse Advantage includes:
Gothic or round style – Durable construction
Film cover – Double layer film with excellent drip control
Polycarbonate end walls – Provides strength and security

Natural ventilation – Choose roll-up or drop-down sides
Complete climate control – Establish a year-round grow cycle
One-stop shop – Outfit your greenhouse with everything you need
GrowSpan Pro Greenhouses have their own GrowSpan Pro Systems that are designed specifically for these professional greenhouse kits. Pro Systems provide growers with greater climate control and promote superior crop production. Pro Systems come with a heater, exhaust fan with shutters, motorized intake shutters, circulation fan and thermostat. Integrating these systems into a professional greenhouse is simple, because Growers Supply takes care of all the sizing and measurements. The sizing and quantity of these systems depends on the greenhouse that they are meant to be integrated into.
A GrowSpan Pro Greenhouse is a great way to improve any growing operation. With energy-efficient accessory options, these structures allow operations or garden centers to reduce monthly expenses, leading to a more profitable and successful business. Browse the Gothic Pro Greenhouse and Round Pro Greenhouse pages to find out more on how these structures can promote success on any operation.
Call or Request a Quote today to find out how a GrowSpan greenhouse can meet your needs.