GrowSpan Premium Greenhouses are a versatile growing solution for growers on any scale and of any type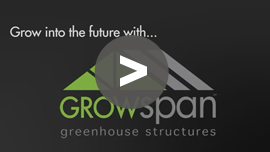 GrowSpan Greenhouse Structures
Growers have specific requirements that they need their greenhouse or growing structure to meet. GrowSpan Premium Greenhouses are among the most versatile growing structures, and a Premium Greenhouse can be utilized by a professional operation or a backyard grower.
Their versatile nature makes these structures a great addition for operations of any type. They have been used in a wide range of applications, including use for professional facilities, ornamental retail and private property. Premium structures provide growers with the ability to obtain complete environmental control and are available in many different sizes, so their is a greenhouse for any grower.
GrowSpan Premium Greenhouses from Growers Supply provide growers with functionality and the utmost durability. They are clad with twin-wall polycarbonate to create a growing environment that is secure, while allowing growers to effectively utilize controlled environment techniques. The ultra-durable covering comes with a 10 year warranty, making Premium Greenhouses the go-to option for those that need a cost-effective, yet dependable, greenhouse. There is no doubt that growers utilizing a Premium structure from GrowSpan don't have to worry about structural integrity.
The GrowSpan Premium Greenhouse Advantage includes:
Gothic or round style – Durable construction
Polycarbonate cladding – Corrugated polycarbonate available
Polycarbonate features 10 year warranty
Complete climate control – Create a year-round growing environment

Condensation control – Reduce moisture build up
Pre-designed greenhouse systems available
One-stop shop – Outfit your greenhouse with everything you need
Each of these greenhouses can be outfitted with the exclusive GrowSpan Premium System. Premium Systems allow growers to improve their crops by gaining environmental control. Premium Systems come with a heater, exhaust fan with shutters, motorized intake shutters, circulation fan and a thermostat. Greenhouse Systems make crop production infinitely easier and can help to reduce labor needs. There are also energy-efficient options that can help lower monthly costs, promoting a more profitable and successful business. The sizing and quantity of the system depends on the greenhouse it is paired with. GrowSpan has already made all the necessary calculations, so integrating a system into GrowSpan greenhouses is simple.
Call or Request a Quote today to find out how a GrowSpan greenhouse can meet your needs.