Commercial Series – Options for any commercial greenhouse project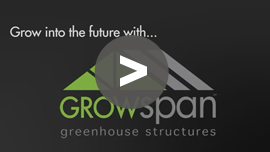 GrowSpan Greenhouse Structures
The commercial growing industry encompasses numerous techniques, crops and business models. This variety within the industry can make finding or building an ideal commercial greenhouse difficult, but Growers Supply is here to create GrowSpan greenhouses that function exactly as commercial growers need, regardless of business size or growing techniques. GrowSpan greenhouse structures have the variety and customization to meet all the buildings needs within the commercial growing industry.
No matter what kind of structure growers are looking for, there's a GrowSpan structure. GrowSpan's greenhouse specialists work with commercial growers and learn exactly what they are looking for, and then they help growers create the greenhouse that best compliments their operation. Commercial growers find Growers Supply's process easy and convenient, and over the years GrowSpan structures have earned the trust of professional growers worldwide.
The GrowSpan Commercial Series Advantage includes:
Superior designs – Durable construction
Completely customize your structure – Ideal solutions for any operation
Multiple cladding options – Polycarbonate, film and more
Venlo styles available – Grow on the largest scale
Versatile structure – Grow anything, anywhere

Energy-efficient – Cut monthly costs
Climate controlled environments – Grow year-round
Passive or active ventilation options – Maintain the ideal environment
One-stop shop – Outfit your greenhouse with everything you need
Greenhouses Designed for any Operation
Whether customers are looking for the strong, rigid polycarbonate walls of the Series 2000 or the cost-effective, yet durable, design of the Series 1000, GrowSpan's commercial series can meet the needs of any operation. The three series can be customized to the most specific detail, ensuring the structure compliments the growing operation and is exactly what the grower needs. These structures can be outfitted to provide complete environmental control. With numerous computer and controlling options, environmental control can be automated, so growers can reduce the labor required to manipulated environmental factors and focus it elsewhere. GrowSpan's commercial series can also be outfitted with growing systems that reduce energy and labor requirements, while still ensuring high-quality crops and yields.
With a number of stock options and the ability to design a completely customized commercial Greenhouse, GrowSpan is the go-to structure for commercial growers looking to give their business and boost.
Call or Request a Quote today to find out how a GrowSpan greenhouse can meet your needs.