GrowSpan Cold Frames And Cold Frame Accessories create a versatile growing environment that can be constructed quickly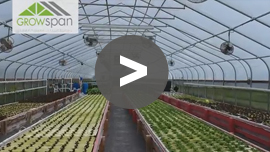 GrowSpan Cold Frame Greenhouse
GrowSpan Cold Frames provide a versatile and cost-effective structure that can be used anywhere from a professional nursery to a residential property. The economical prices and supreme functionality of these structures ensure that users get the most for their dollar. A cold frame allows growers to select their ideal covering film, and Growers Supply can provide a number of options, all of which can help growers to create a structure that is ideal for their operation and the crops that they produce.
Utilizing a cold frame can help operations increase their money-making potential. By using the structures, crops can be planted earlier and harvested later, allowing operations to be first to market and gain an extra harvest at the end of the season. Adding a cold frame can also provide valuable protection. With the structure, crops are covered from damaging weather and pests, allowing a greater percentage of crops to reach the market.
As a one-stop shop, Growers Supply can provide growers with the cold frame structure and cover that they need, as well as any other growing accessory that they require. A Greenhouse Specialist can provide valuable customer support to ensure growers select the structure and cover that is ideal for their operation and growing environment.
A Greenhouse Specialist can also help growers identify the structure that is right for them.
The GrowSpan Cold Frame Advantage includes:
Extend your grow season – Fight off the cold
Numerous cover options – Choose the cladding that's right for you
Protect crops for pests, disease and harsh weather

Gothic and round styles available – Ideal frames for any grower
Highest quality materials – Superior structural integrity
One-stop shop – Extensive catalog to carry all the accessories and supplies you need
GrowSpan Cold Frames are manufactured with the highest integrity. Often times growers opt for a cheap growing structure, as opposed to an economical growing structure, and these cheap structures can quickly breakdown. A cold frame from GrowSpan ensures a long-lasting life and plenty of use, so customers can gain additional valuable growing space for years to come.
Getting the perfect cold frame for growers on any scale is simple when working with Growers Supply. Find out how a GrowSpan Cold Frame can help.
Call or Request a Quote today to find out how a GrowSpan Cold Frame can meet your needs.