GrowSpan supplies a variety of grow room and greenhouse benches, from rolling benches to automated mobile containers, so growers are sure to find the ideal solution for their operation. Benches play an important role in the growing environment by improving organization and acting as a stable platform for crops to grow properly. When choosing GrowSpan, growers have access to the finest bench options to optimize greenhouse or grow room layouts while expanding growing potential.
GrowSpan Greenhouse Structures offers a number of advanced benching options, like mobile containers, and can meet even the most specific benching requirements with custom designed solutions. Request a free quote for more information on custom benching. GrowSpan is also proud to offer a new bench top liner system that creates air gaps between trays for positive pressures systems and improved airflow in the plant's canopy.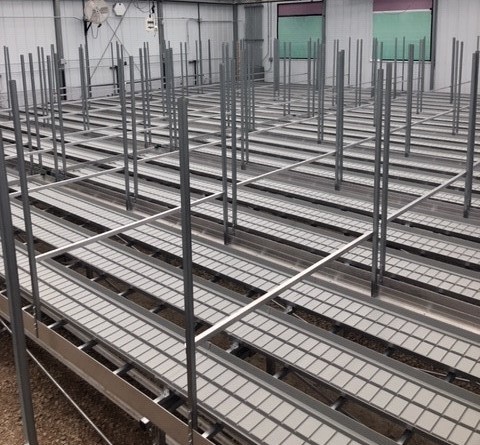 THE GROWSPAN GROW ROOM AND GREENHOUSE BENCHES ADVANTAGE INCLUDES:
Optimize production space – Improve organization
Automate any grow – Reduce labor and operating costs
Simplify irrigation and other maintenance tasks – Easier access to crops
Improve efficiency – Organize for ease of movement
One-stop shopping experience – Products and expertise for any greenhouse need
Expert consultation – Easy greenhouse integration
OPTIMIZE ORGANIZATION WITH COMMERCIAL GREENHOUSE BENCHES
All of GrowSpan's Grow Room and Greenhouse Benches improve organization by allowing greater control over the layout of the growing area. Greenhouse rolling benches are a mobile solution that provides the ability to organize a grow based on crop, growth stage, or any other factor. GrowSpan Commercial Greenhouse Benches offer an organization solution for even the largest operations, as they can be connected up to any length.
Besides improving greenhouse organization, GrowSpan Greenhouse Benches also decrease labor costs. These benches provide easier access to plants, making maintenance tasks less laborious, saving commercial growers time and money.
AUTOMATE YOUR GROW WITH GREENHOUSE MOBILE CONTAINERS
With GrowSpan's Greenhouse Mobile Containers, growers can optimize their grow room or greenhouse organization, while also improving the overall flow of their grow. These automated growing systems allow growers to manipulate the layout of their growing area, controlling the movement of crops and eliminating or adding walkways with ease. The ability to change the entire organization at a moment's notice helps growers to optimize production space and improve grow room efficiency when they need to most.
GrowSpan Grow Room Benches can also incorporate an irrigation system to help create a fully automated growing operation. GrowSpan benches are easily adapted to existing irrigation systems, so they can improve upon any operation. Combining the benefits of benches with an automated irrigation or fertigation system optimizes the growing space, lowers labor costs and reduces water and fertilizer waste.
To start organizing your greenhouse layout or to learn more about GrowSpan's Grow Room and Greenhouse Benches, Call or Request a Quote today.