What To Know To Operate A Successful Retail Nursery
A retail nursery has a much different look and feel than a traditional growing facility. While other operations can simply focus on maximizing their growing space, nursery owners are faced with the unique task of creating a production area that also serves as a retail destination.
This adds an interesting dynamic to a business's strategy, as maintaining success becomes about much more than just producing high-quality crops. This certainly remains a focal point, but nursery operators must also take into account customer experience, working to draw in guests and ensure they turn into repeat buyers.
To achieve both of these goals, potential business owners need to first decide what kind of plant nursery they want to set up, as well as understand what goes into running a prosperous retail operation. The foundation of most successful retail nurseries is having a greenhouse that's attractive, allows for superior environmental control and lets owners easily scale their business. Combined with a functional interior space, a retail nursery will have the best chance of staying profitable long-term.
Getting A Retail Nursery Operation Off The Ground
In the retail and nursery industry, there are essentially two types of operations: the retail nursery and the wholesale nursery. Although in many cases, it can be better to start small, the type of business aspiring nursery owners choose will depend on various circumstances, like their location, available funding and what scale they feel they can operate at successfully.
Wholesale nurseries, also known as production nurseries, propagate flowers, plants and other crops in bulk, then sell them directly to smaller retail nurseries, landscapers, building contractors and more. These are often much larger operations, so they normally offer a wider selection of products, including annuals, perennials, fruit trees, native plants for different regions and even landscaping materials.
In some cases, wholesale nurseries find it easier to operate as primarily mail order, shipping goods to customers, without requiring them to shop on site.
A traditional retail nursery follows a slightly different business model, operating on a smaller scale and distributing more locally. Many times, these businesses are run by self-sustaining growers who plant and nurture their own crops, but some retail nursery owners also choose to buy plants from wholesale nurseries to resell to their customer base.
Regardless of scale, there are a number of factors that every retail nursery needs to take into consideration, so they can get off to a successful start. Along with the size of their operation, this includes details like daily labor requirements, plant selection and most importantly, the structure they will be housing their business in.
For a retail nursery, especially one operating locally, it's crucial to have a high-quality greenhouse that's designed with both the plants and customer in mind. Not only do nursery owners need to have total control over the growing conditions within their structure, but the right greenhouse will also provide exceptional curb appeal, creating an inviting retail space that helps bring in customers.
From a financial standpoint, these operations should consider acquiring a gutter-connected greenhouse, because it allows for simpler and more cost-effective expansion down the line. A smaller plant nursery can easily grow their business when they're ready, and those looking to start a wholesale nursery are able to connect as many bays as needed, creating a massive production space that rivals well-established commercial garden centers.
Sign Up Now To Learn More
Balancing Production Area And Shopping Space
Once growers have their structure in place, they will need to decide how they are going to utilize their space. The ultimate goal will be to maximize the available growing area, while still creating a spacious retail environment that's easy to navigate and allows customers to find what they're looking for, leading to an enjoyable shopping experience.
The best way for a retail nursery to accomplish this is by choosing their ideal type of benching, and then configuring it in a way that best suits their vision for the space. Regardless of what style of bench growers choose, whether it's wood, plastic, metal or block and board, it's a good idea for them to incorporate a solution that's lightweight or mobile. This way, they can move benches around with relative ease and the layout can be adjusted as needed.
Two of the most popular layouts for greenhouse benching are the longitude layout and peninsula layout. Both of these formations can be effective in a retail nursery setting, but the right solution will ultimately vary from operation to operation.
The longitude layout tends to be the most traditional setup, featuring long, narrow aisles that run vertically over the length of the entire greenhouse. This does create extensive pathways customers have to walk down in order to see every plant or get to the next aisle, but it also allows for long continuous runs of watering lines, heating pipes and more, which can alleviate labor requirements and provide a cleaner appearance.
In the peninsula layout, benches run horizontally throughout a greenhouse, with room for narrow paths left between them. This produces an effective combination of growing room and space for customers, as it also leaves the center of the structure open to serve as a wide walkway, offering them a clear view of the different plant displays. The peninsula layout can work particularly well with rolling benches, letting growers add or eliminate walkways with ease and gain total control over the flow of their greenhouse.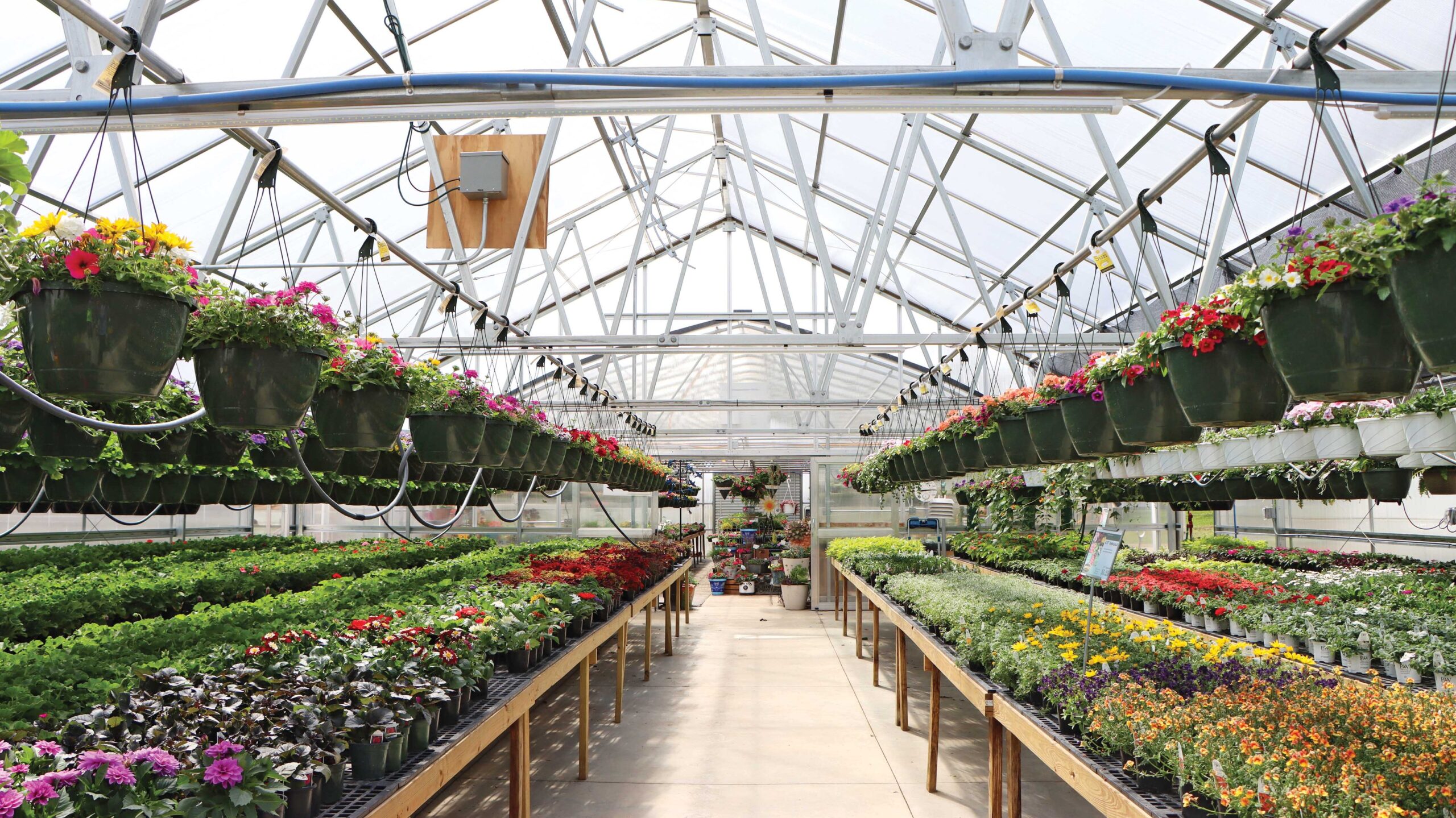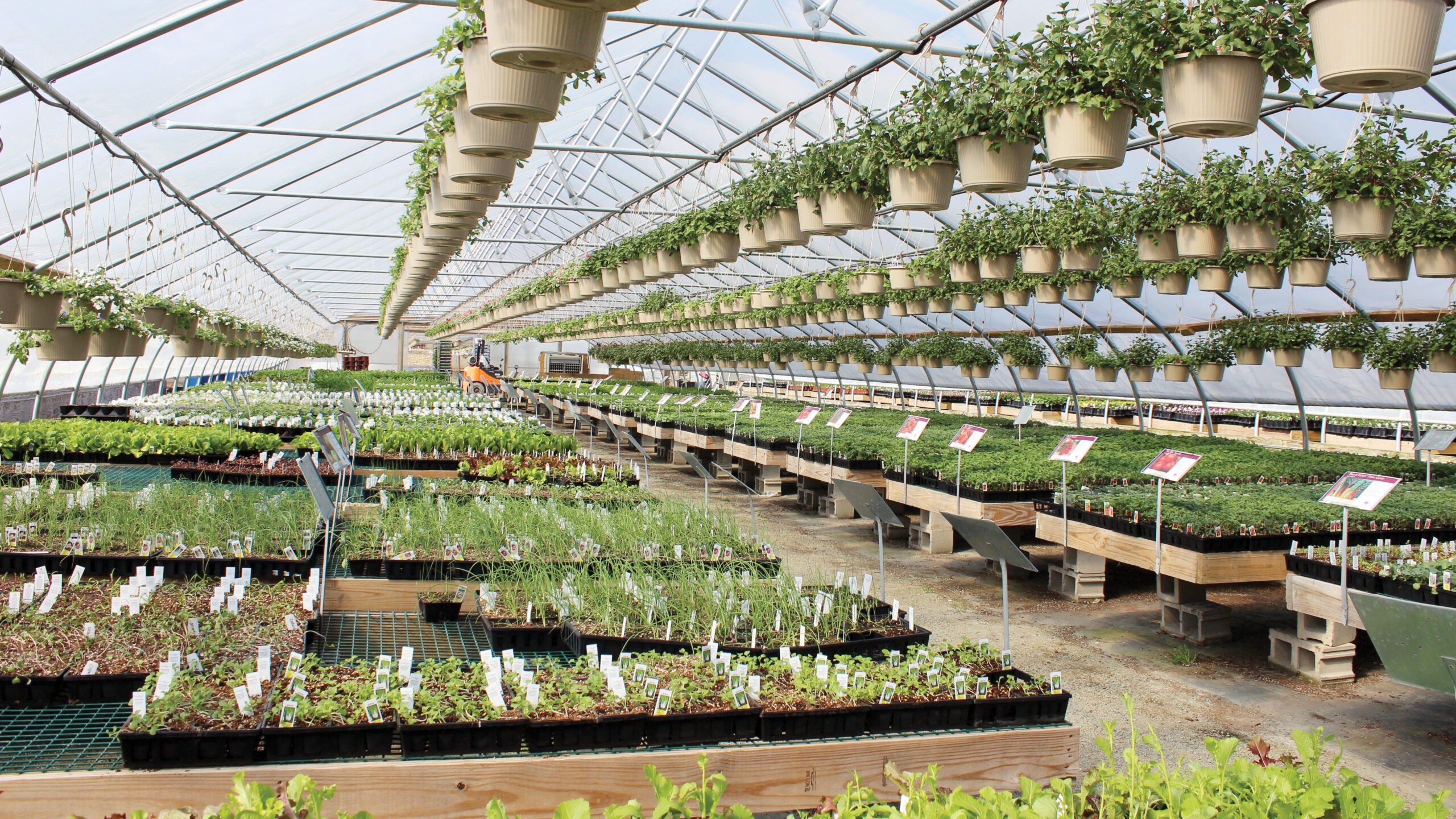 In addition to benches, utilizing rafters for hanging baskets can be a great way to maximize the available overhead space in a retail nursery. Plants can be conveniently hung within reach of customers, while staying off benches and freeing up room for other product to be displayed.
By obtaining a high-quality greenhouse and setting it up to optimize both plant production and customer experience, nursery owners can better stand out from their competitors and stay profitable year over year. To learn more about how a successful retail nursery operates, call or REQUEST A QUOTE today.
Related ARticles
Although it may be an afterthought for some growers, greenhouse shelving and benching has become one of the most important greenhouse accessories.
When a grower searches for their ideal covering material, they should bear in mind the types of crops they will grow, the climate they live in and the placement of their greenhouse.
As greenhouses become increasingly larger in size and growing technology continues to advance, so too do the requirements for pulling off a successful greenhouse installation.
When a grower searches for their ideal covering material, they should bear in mind the types of crops they will grow, the climate they live in and the placement of their greenhouse.