How To Best Optimize Greenhouse Price
When it comes to purchasing a greenhouse, there are a variety of manufacturers and materials that growers will have to choose from. This can be a challenge, as growers will want to obtain a greenhouse that makes the most of their budget.
To optimize greenhouse price, it's important for growers to work with reputable industry experts who can design their ideal greenhouse. This will help them avoid overspending on features they don't need, as well as spending too little and ending up with a low-quality structure.
Through GrowSpan, growers can get invaluable advice and post-installation support that helps them maximize the growing potential of their greenhouse. After obtaining a reliable, high-performing structure, growers can then create a growing strategy that helps them limit monthly costs, while maximizing long-term profits.
OBTAINING A CUSTOM STRUCTURE
There's no better way for growers to optimize greenhouse price than by designing it around their needs and production goals. Every aspect of a custom structure can be catered to their budget to help them maximize their output. A greenhouse kit can be a viable option for many operations, but customization gives growers complete control over the look and feel of their structure.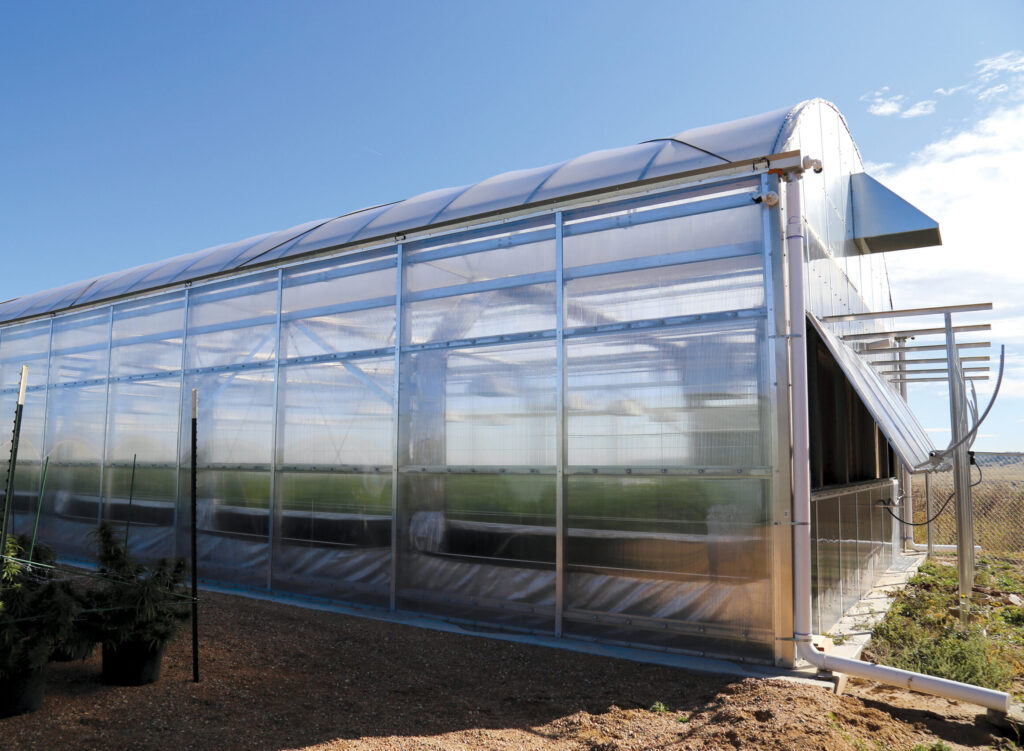 A GrowSpan Greenhouse Specialist can provide growers with expert consultation throughout the entire purchasing process. From design to installation, this will help operations get the best style of greenhouse for their region and climate, at an economic price point.
It can also be a good idea for growers to get help building the greenhouse, so that it's constructed quickly and correctly. GrowSpan can send a project manager to oversee an existing crew or a team of experienced professionals to ensure proper installation. This will help operations avoid disaster down the line with their structure, resulting in the greenhouse price being wasted.
HOW MUCH DOES A GREENHOUSE COST?
Since there are so many design variables and different types of greenhouses, greenhouse price can have a wide range of average costs that is dependent on the equipment and kind of structure a grower chooses. Factors like cladding and the frame material will ultimately impact the total greenhouse price.
When growers customize their greenhouse with GrowSpan, their structure will cost whatever they can afford. Operations won't end up overbuilding or stretching their budgets too thin. They can acquire a greenhouse that suits their financials and is still both high-quality and high-performing when compared to what they spend.
Sign up now to learn more
USING HIGH-EFFICIENCY EQUIPMENT
High-efficiency equipment is going to help growers maximize their output, while letting them benefit from energy savings over time. With bigger, higher-quality yields and significant reductions to operating costs, the equipment will be able to pay for itself over time. This makes a grower's investment more worth it in the long run and helps to optimize overall greenhouse price.
High-efficiency equipment can encompass just about everything needed in successful commercial greenhouses. From heaters and cooling systems to lighting and irrigation, there are a variety of products for growers to choose from.
The Modine Effinity 93 offers one of the most efficient greenhouse heaters available to growers. It is 93% efficient, so growers will benefit from substantial energy savings over its life span. Compared to other heating systems, growers can also more easily maintain uniform temperatures and consistent air circulation with this heater.
Evaporative cooling is an effective cooling method for growers in larger greenhouses that want to keep greenhouse price to a minimum. Growers in more arid regions can use an evaporative cooling wall to create comfortable temperatures and an ideal humidity level in their structure.
The newest LED light fixtures allow growers to give their plants the supplemental light they need to flourish, without inflating greenhouse price. By acquiring LED lighting, growers will benefit from substantial long-term energy savings. Depending on their state, operations can even qualify for state grants and energy incentives that often pay for a large portion of their lighting package.
If growers are looking for an efficient irrigation method that maximizes production and makes the most of their budget, drip irrigation is often a viable solution. Drip irrigation optimizes greenhouse price over time, reducing water consumption and delivering it directly to crop root zones for an improved growth rate. This past blog goes more in depth on drip irrigation and the benefits of implementing it into a greenhouse.
To get the most out of their greenhouse price, growers should also incorporate an environmental controller into their grow space. This will streamline all the new, high-efficiency equipment to help it run at its highest potential and maximize yields in every growing cycle.
OPTIMIZING GREENHOUSE PRICE THROUGH USABLE SPACE
Taking full advantage of an operation's available space will be key for them to get the most out of the greenhouse price. When growers optimize their layout by balancing growing space and room for workers to maneuver, they can boost their overall productivity.
This is largely done through greenhouse benching, which can often be an afterthought for many growers. In particular, rolling benches offer a relatively low-cost way to optimize growing space. These are generally a better investment than stationary benches when operations are trying to make the most of their greenhouse price.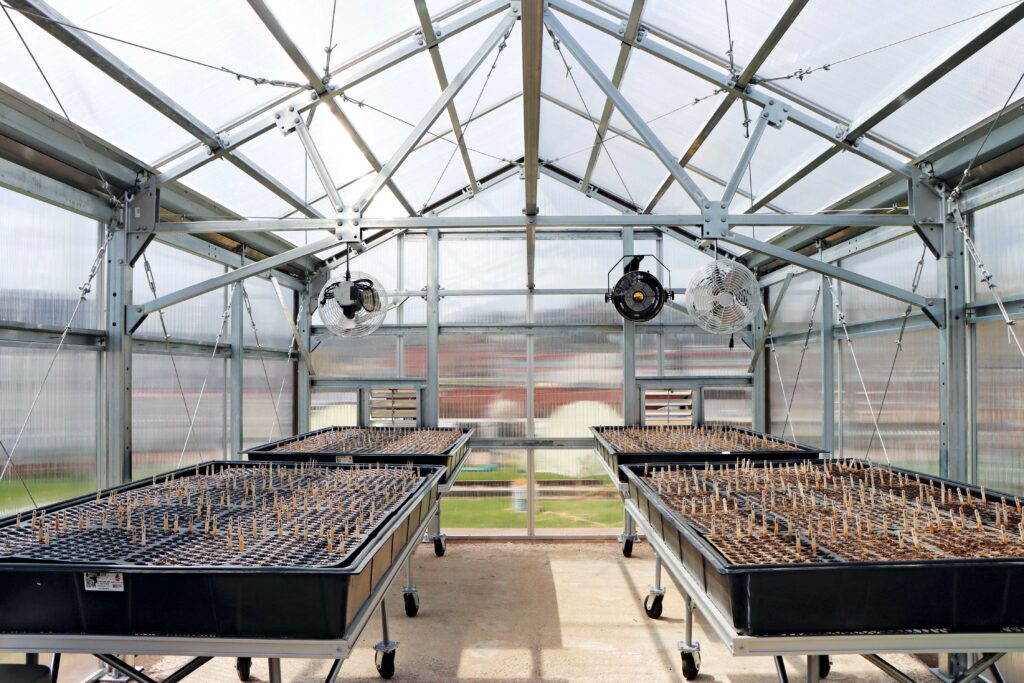 When optimizing greenhouse price through their structure's layout, growers will benefit from the advice of a Greenhouse Specialist. GrowSpan's specialists have expert knowledge and experience of what works and what doesn't in a greenhouse space. They can help customize benching layouts for an operation's specific structure so growers will get the best results out of their cost per square foot.
For more information on greenhouse benching and shelving and its benefits in a greenhouse, read this previous blog.
In any growing space, the best layout doesn't just pertain to benching and shelving. Production can also be influenced by other design choices that growers make with their greenhouse footprint to increase yields.
A germination room can be a relatively inexpensive portion of total greenhouse price, but the impact it can have on output makes it a great option for many operations. Dedicating a small part of their budget to a germination room allows growers to get a significant head start on the growing cycle of their crops.
Operations can utilize GrowSpan's tiered shelving and stack their propagation trays vertically. With the right environment, seedlings should develop rapidly, which translates to larger, more frequent harvests for growers. Adding production space vertically can be especially effective in urban areas where growers have limited space and need to be smart with choices that affect greenhouse price.
WHAT IS THE MOST PROFITABLE GREENHOUSE CROP?
The answer can vary, but among the most generally profitable crops are tomatoes, peppers, cucumbers, strawberries, lettuce and other leafy greens. Although most growers will already have an idea of what they want to grow, crop diversity can help their operation have a bigger impact on the market. By getting more high revenue crops to market, operations can better optimize their greenhouse price.
Growers can also grow out-of-season crops that sell for a higher price because they aren't readily available at certain times of year. With a custom GrowSpan greenhouse, growers in any climate can produce high-quality crops year-round that increase their bottom line.
When operations develop a focused growing strategy and gear their operation around growing specific crop types, they can more easily maximize their profits and greenhouse price. Depending on the size of the greenhouse, growers may also be able to grow these valuable crops in larger quantities.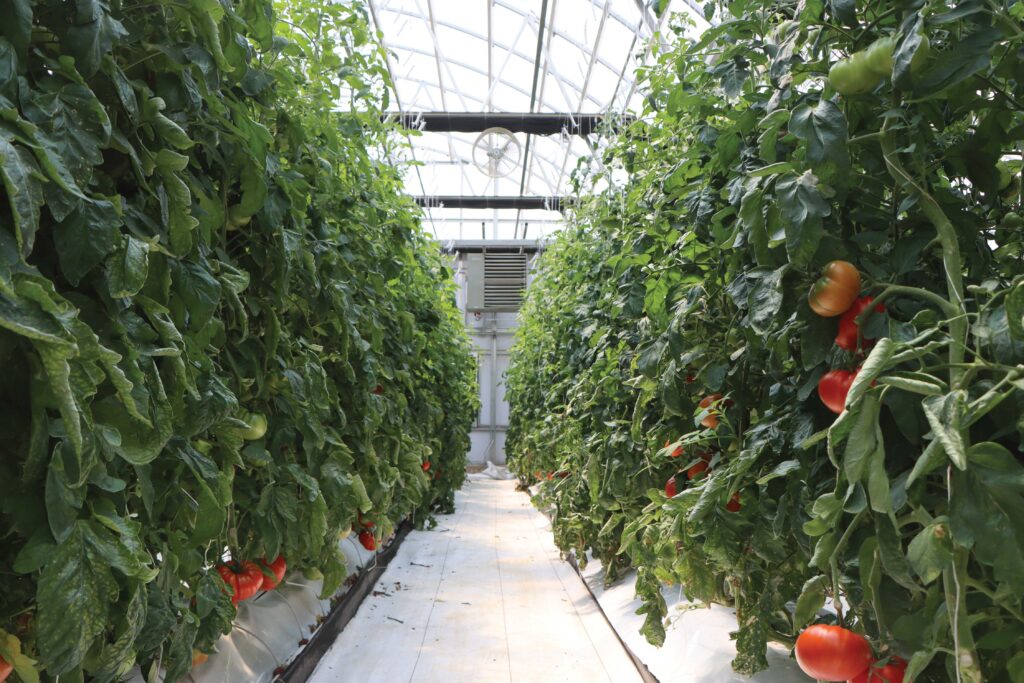 Making design choices in a grow space can be complicated and growers often have a difficult time getting the most out of their available budget. However, GrowSpan can help operations best optimize their greenhouse price and get the highest-quality structure for their budget, leaving them with a greenhouse that is destined for success.
To optimize your greenhouse price and get the most out of your budget, call or REQUEST A QUOTE today.
Related Articles
A custom greenhouse takes out the guesswork for growers attempting to set up their own structure with minimal guidance.
Whether it's an established business looking to improve production or an operation that's just starting out, greenhouses can help any grower sustain long-term success.
Adding a commercial greenhouse to a growing operation provides numerous benefits to crops, reduces labor requirements and utilizes Mother Nature, without disturbing her.
With many operations electing to grow in greenhouses over indoor facilities or outdoor fields, it's essential they choose a structure that takes advantage of all a greenhouse's capabilities.
As a modular greenhouse, a gutter connected greenhouse helps growers avoid over-spending up front and allows them to expand as their business dictates.
Once the time comes for growers to purchase a new greenhouse, it's important they understand all of their available options.