Ertl Enterprises and GrowSpan
October 25, 2017   
In this video, Ertl Enterprises in Hazelhurst, Wisconsin is putting their GrowSpan Series 1000 Commercial Greenhouse to the test with hydroponic and aquaponic growing.
GrowSpan Hydroponics Greenhouse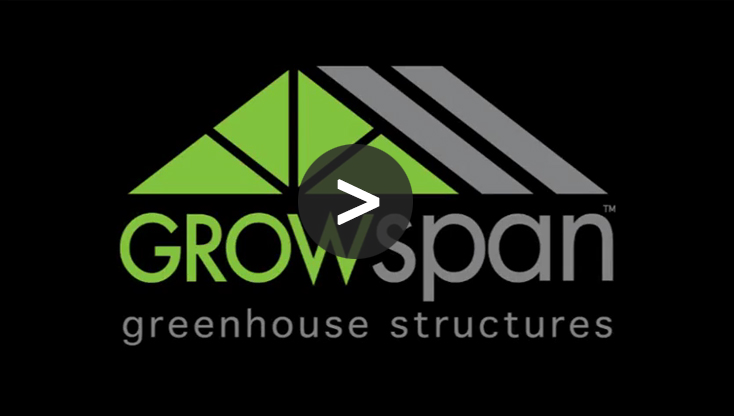 Their structure is 60 feet wide by 72 feet long, and every day they plant 140 plants. The company used GrowSpan's installation team and construction took an incredibly effortless four days. Having no prior experience with greenhouse cultivation, Pat Ertl of Ertl Enterprises has had an impressive level of success and found that the structure helps him cultivate a premium product under a more controlled environment.
The S1000 Commercial Greenhouses have a variety of optional accessories to help growers create the perfect greenhouse system. Some of these accessories include roll-up and drop down sides and heavy-duty double doors, and they can be customized to include all the required growing accessories and tools. These high-quality, yet affordable building options are ideal for any professional growing operation. To improve natural ventilation inside of a Series 1000 Commercial Greenhouse, optional continuous roof vents, like the one Ertl Enterprises has, can be a great addition. In addition to roof vents, end vent kits are available for passive ventilation. These simple and affordable design options can easily improve the interior environment, which in turn creates a more efficient operation and healthier crops
The S1000 is easily outfitted with the latest automated environmental control technology to make adjusting the temperature, air flow and much more a simple task. Environmental accessories include heaters, circulation fans, intake shutters, exhaust fans with shutters, thermostats and more. Luckily, GrowSpan Greenhouse Specialists have designed and assembled pre-measured systems that customers can quickly integrate, but they can also customize systems to meet the most specific requirements.
The GrowSpan Series 1000 Greenhouse can help growers to improve crop yields and quality, while maintaining a budget and making a worthwhile investment. The structure features an arched roof design that helps ice and snow build up to slide off the roof with ease, providing an attractive and functional appearance.
These structures are built from the most resilient materials on the market, for example, the sidewalls are clad with polycarbonate, ensuring durability. These industrial greenhouses are covered with durable double poly film that provides security and dependability year-round. They can also be gutter connected, so no matter what the future holds, the building design can easily be expanded upon. The Series 1000 Greenhouse is the perfect structure for any commercial growing operation. GrowSpan carries stock sizes of this building, but Greenhouse Specialists are well-versed in designing custom buildings for any individual business.
Discover the ways a GrowSpan S1000 Commercial Greenhouse can quickly improve any growing operation by contacting a Greenhouse Specialist or Request a Quote today.