Meet and Learn from the Industry's Finest
GrowSpan's parent company is not only committed to providing growers with the highest-quality products, but also to ensuring that each customer gets the most out of their growing products. To make this happen, Growers Supply hosts their CEA Hands-On Workshop at their Dyersville, Iowa campus. 
The workshop brings together growing industry experts, like leading growers, educators and product specialists, to teach attendees of all skill levels the newest trends and up-to-date information on controlled environment agriculture. Attendees gain extensive knowledge on hydroponics, aquaponics and environmental control techniques that can help both the professional and hobbyist take their business or operation to the next level. 
Attendees will have time with industry experts and will be able to ask questions that are specific to their needs. Greenhouse and Hydroponic Specialists will be on hand to help with any current or future projects, and growers will also be able to network and share information and solutions with each other.
When and Where is the Workshop Held? 
The CEA Hands-On Workshop is held at Cea Learning Center West in Dyersville, Iowa. CEA Learning Center West consists of two commercial greenhouses that produce year-round. One greenhouse utilizes a number of hydroponics systems, while the other features a full-scale aquaponics operation.
Growers Supply CEA Learning Center Locations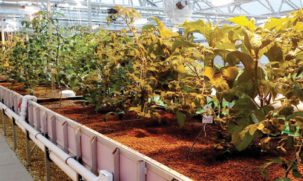 CEA Learning Center West
1440 Field of Dreams Way
Dyersville, Iowa
Upcoming Dates:
May 16-18, 2017
September 12-14, 2017
How Much is the Workshop? What's Included?
Theworkshop costs $995, which is returned at the end of the course as a product credit that is good for use towards any CEA-related product in the Growers Supply catalog. Customers that have already purchased a greenhouse or growing system may qualify to attend at no charge.
Attendees Will Also Receive:
Hotel room, lunch and workbook
A three night hotel stay is included in the tuition. Attendees will be fed lunch each day, as well as receive a course material workbook. 
 Access to state-of-the-art growing facilities
Not very often do growers get the ability to view and get hands-on experience in a modern grow environment that is decked out with all the latest technology. Attendees will operate growing systems, environmental control tools, aquaponics systems and more. Growers will be able to talk to the designers and engineers that created the facility and be able to apply their expertise to their operation at home. 
Request more information today.